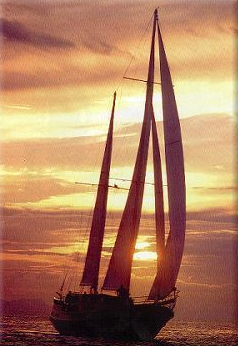 The "Blue Cruise" is enchanted. Exploring the beautiful unspoilt coastline from the deck of a traditional Turkish gulet is a magical experience. Escape to the pleasures of relaxing in the sun, swimming, good food and magnificent scenery. The daily enchantment of sailing to a new adventure on crystal dear waters in every shade of blue and green is rewarding and satisfying. Whether communing with nature or the friendly Turkish people along the way this is a holiday to remember.
Once the "Blue Cruise" was exclusive to a privileged few, now you can enjoy total relaxation exploring the delights of this beautiful coastline without any of the responsibilities of sailing. You can visit resorts along the shoreline and retire to your "travelling hotel". A sailing holiday on a traditional Turkish gulet provides a sense of adventure with your accommodation moving with you.
Cruising the bays and islands in clear blue seas is an experience never to be forgotten. Flying fish, dolphins, amazing sunsets and shooting stars are memories to treasure on your coastal voyage. Your magical joumey will take you to deserted bays where the pine forest reaches to the turquoise water, to unspoilt fishing villages and small harbours which when the sun sets and the air cools, come to life.
The indented coast provides ideal cruising conditions. The water are clear and inviting with many beautiful coves. Swim in the calm warm water before breakfast then enjoy the moming sail to a new location. You can take to a sun bed under the awning in the heat of the day with the sound of cicadas for company and the perfume of mountain herbs and pine trees drifting around you. The more energetic can indulge in wind surfing, snorkelling or a refreshing swim to cool down.